In response to recent changes in provincial restrictions, the Centre du patrimoine is now OPEN but with limited access. Note also that the pandemic has created a delay in our genealogy service. We thank you for your patience.
We encourage you to submit your genealogical orders by mail or electronic means using our online Request Form.
If you prefer submitting your request in person, please take note of the following:
If possible, please fill out your application before coming in.
We can send you the application by email or by mail before your visit. Contact us by phone at 204-233-4888 or by email at shsb@shsb.mb.ca.
We ask that you wear a mask at all times and that you follow distancing rules.
If you want to come in the Centre to speak to the genealogist or to do your own research, please make an appointment beforehand. You will be asked a few pandemic-related questions before you will be given access.
For more information, we can be reached by email (shsb@shsb.mb.ca) or by phone (204-233-4888).
Please read the following information before submitting a request form. Our office will only process your request if it has been successfully submitted and paid for.
Please note: We specialize in the genealogy of French-Canadians (primarily from Western Canada and Québec) and the Métis of Western Canada (from west of Thunder Bay, Ontario, to British Columbia). We do not have access to foreign records nor do we have the resources to conduct research on ancestors originating in the Maritimes or from outside of Canada.
The following required documents cannot be attached to the online request form and must be sent in separately. The documents can be submitted by mail to the Centre du patrimoine, 340 Provencher Blvd, Winnipeg, Manitoba R2H 0G7 or by email to shsb@shsb.mb.ca.
Please submit the following required documents:
A copy of an official document connecting you, the applicant, to your parents (e.g. birth certificate with parents names on it, baptismal certificate, registration of birth or marriage)*;
A copy of a valid government-issued photo I.D. (e.g., driver's licence, passport, or service identification card);
A filled in family tree form (see below), which should include full names (maiden names for women), dates & places of birth and death (if applicable) for yourself, your parents and your grand-parents; and
Full names and any additional information you may have about your great grand-parents (e.g. dates & places of birth/death, obituaries, etc.)
Please use the following family tree form to fill in your family information.
Family Tree Form (PDF) :
In addition to these base requirements, you may be contacted to provide further documentation in order to confirm genealogical links within your lineage.
* Birth certificates with parents' names (sometimes also known as long-form birth certificates) can be ordered from the Vital Statistics office in the province where you were born. For Manitobans you can do so by filling out the appropriate form here: http://vitalstats.gov.mb.ca/certificate_apps.html
Alternatively, baptismal certificates can be ordered through the parish in which you were baptized.
Family Group Page (Free with order of a Proof of Métis ancestry or Genealogy book) — If you would like to include your children in your genealogy, you must provide a copy of their birth or baptismal certificate with parents' names on it identifying you (the applicant) as their parent.
These documents can be submitted by mail or e-mail. They cannot be attached to the online request form and must be sent in separately.
Mail: Centre du patrimoine, 340 Provencher Boulevard, Winnipeg, MB R2H 0G7
E-mail: shsb@shsb.mb.ca
Proof of Métis Ancestry – What Is It?
Along with a 2-3 page genealogy chart focused on the ancestral line of interest, our genealogists search for evidence of an applicant's direct ancestor being identified as Métis in the historical record. This includes primary source documents such as census returns, scrip or land grant documents, or in some cases ecclesiastical records.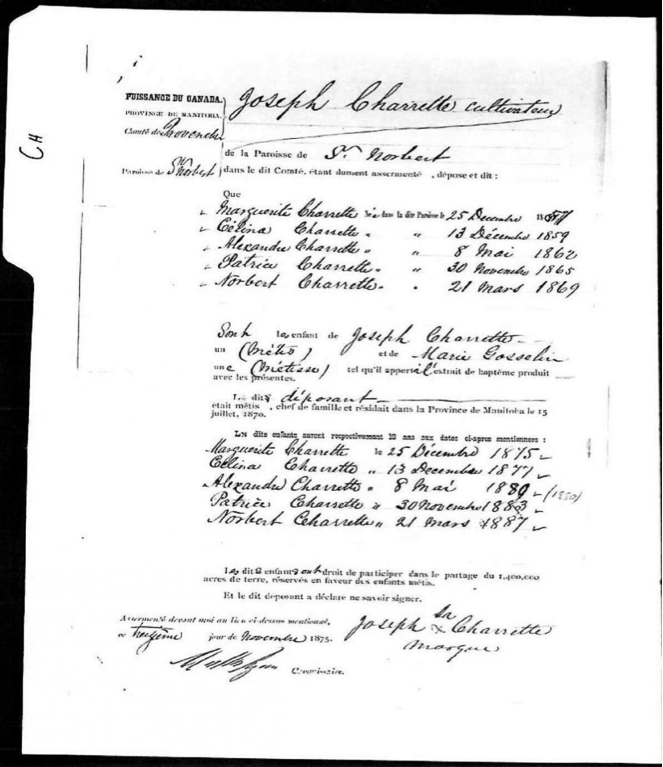 What Proof of Métis Ancestry Does Not Do
This evidence is by no means a guarantee to acquiring Métis Citizenship. We do not determine whether an applicant is Métis or not. Only recognized Métis governments have the authority to determine an applicant's eligibility for citizenship in the Métis Nation. Furthermore, we do not have the power to bestow admittance to any other nation/ethnic group/organization other than to our own Société historique de Saint-Boniface. This includes: clubs, teams, bands, schools, programs, societies etc.
We will not write you a letter declaring that you are Métis, for any reason whatsoever.
What we do is simply establish whether or not the applicant has at least one ancestor who was officially recognized and identified as Métis on an primary source document. If so, the document in question will be included in whichever package you decide to order.
You can then present these findings to the appropriate Métis or First Nations governing body for further evaluation. The document acts only as supporting evidence to your claim. In the end, regardless of what evidence there may be, only Nations themselves can bestow or deny citizenship to their own Nation.
Admission requirements may vary from one organization to the other.
We are neither Indigenous Services Canada, nor any other type of Indigenous government or organization, and of course we are not a court to which appeals can be made.